Fundraising is critical to many organizations that operate markets and events. For some, it helps offset their operational costs, for others it helps buy new equipment, and some even run everything off the kindness and support of others. In order to support those markets and events, we recently launched fully integrated Donations!

Our goal was to make this important management aspect as easy and powerful as possible. Collecting Donations is available to any organization whether you represent a Market, Event, Vendor or Association. It's free to get started and does not require signing up to any of our other services. Just create a free profile and click "Donations" in your dashboard.
Check out all the great features:
Donate buttons for profiles and websites
Campaigns to track fundraising goals
Text to Donate support
Donor and Donation tracking
Next day availability of funds
Donor outreach with automatic donor contacts
Once enabled, you have two great options for advertising your Donate Now button on your profile or embedded on your personal website:
Simple

Or, if you configure a campaign to track fundraising targets:
Campaigns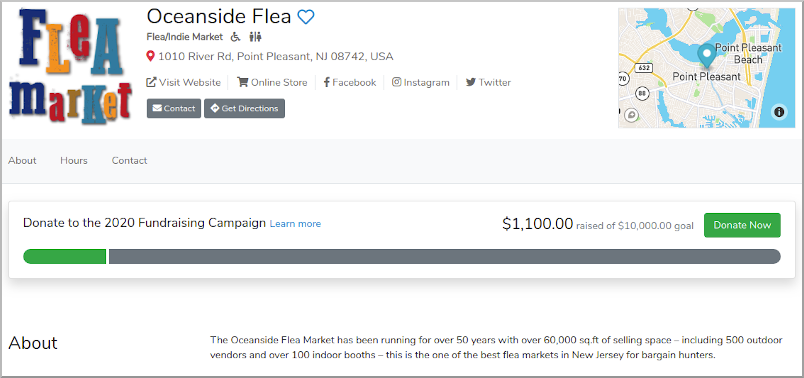 Campaigns are a great way for you to set and track fundraising targets. Keep them private or publish them to your profile as seen above.
What about tracking invividual donations and donors? We've got you covered! Easily monitor individual donations, donors and payouts from your dashboard.
And with automatic donor contact creation and tagging you can easily send personal thank you messages or drive new fundraising outreach campaigns.
Interested in learning more? Drop us an email at [email protected]