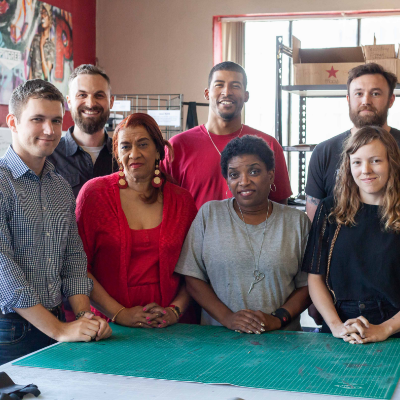 Jarret Schlaff, Kaleb Fulk, Cinthia Montague, Steve Schock, Mary Storey,
Jarret Alan Schlaf serves as CEO and President of Pingree Mfg L3C(Pingree Detroit)
He has 10 years' experience in management and personal, professional and organizational development. Jarret was named a Global Leadership Fellow by the Hesselbein Leadership Institute in 2010, Campus 2 Congress Fellow with the Bard Center for Environmental Policy in 2012, among the 9 selected to represent the Detroit cohort at the 2015 Young American Leadership Program with Harvard Business School, named an Emerging Leader by the Detroit Chamber of Commerce in 2015, and was a finalist at the 2016 Regional Detroit Chamber of Commerce Entrepreneurship "Detroit Pitch" Competition.
Mr. Schlaff was born and raised in Waterford, MI and has lived and worked in Detroit since 2010. Mr. Schlaff currently lives on Detroit's eastside in the Charlevoix Villages community and is committed to cultivating neighborhood resiliency through the creation of accessible, living wage jobs, asset and needs mapping, and cross-sector collaboration.

Kaleb Fulk, VP of Communications and Marketing

Kaleb Fulk entered active military service in 2012. Originally serving as a musician in the United States Army, he transitioned into the role Public Affairs Officer where he continued to work with performing and creative organizations within the Department of Defense. During his tenure as a Public Affairs Officer, he oversaw the design of several national outreach tours, implemented new-media focused approaches in recruitment campaigns, and contributed to the generation of regulations instating multimedia production
standards for the United States Army. He also worked within the media field, creating an array of graphic and visual media and eventually authoring guide manuals for use in the Department of the Army's Advanced Individual Training classes. He left active duty in September of 2016 and returned to Detroit to complete his undergraduate education in Communication at Wayne State University.
Since his return, he has worked in various marketing capacities, including designing and executing an international marketing campaign for the recently released film "Train Station", and serving as webmaster for the Department of Communication at Wayne State University. In October 2016, he began work at Pingree Detroit as a social media manager, working to raise brand awareness and drive pre-orders in a crowdfunding campaign. In December 2016, Kaleb was offered co-ownership and the position of VP of Marketing and Communications, a role which he currently serves in. This position has allowed Kaleb the chance to broaden his experience in marketing, gain a deeper understanding of national marketing campaigns, and work alongside Detroit's underserved veteran population. He plans to pursue a Ph.D. in Communications with an emphasis in new media and is currently working on his first publication which explores the interpersonal effects of new media recruitment campaigns on perceptive recipients in late adolescence.