This week we are excited to be talking about one of our latest additions to Farmspread - Vendor Check-in! One of the ways we continue to innovate to make managing your market more efficient and productive.
It's one of those things that we hear all the time from market managers, that they are tired of constantly tracking down vendors and last minute no-shows. Farmspread helps managers get better control over day to day vendor attendance with our new automated online check-in for vendors. With Farmspread check-in you will know who is confirmed attending in advance, allowing you to better plan and backfill vendors when necessary.
Enabling vendor check-in is simple. Go to your market dashboard, select your season, then click edit at the top.

On the edit page find the vendor-checkin section.

Here you will find a toggle to enable/disable the vendor check-in feature for the season. You will also find a "Days before" option that will allow you to configure how many days in advance you want to automatically lock your application for that day and send out check-in notices to all your vendors.
Once vendor check-in is enabled you can see who will and will not be attending via the event day view in your dashboard.


Above you can see that Soap Sense and Peapod farms have checked in that they will be attending while Rise and Shine Bakery has checked in that they will not be attending. The other vendors still have not checked in.
As a vendor, you will get a reminder notification in your dashboard as well as an email to check-in for the event day. An example of the notifition is shown below:

To check-in, simple click on the Go check-in link or on the button in your email. This will take you to your upcoming events where you will see a check-in button.

Clicking on the Check-in button will give you the ability to say whether or not you will be attending for that day.

What if you have a vendors that are unable to check-in online or you are a market manager who wants to check vendors in manually. We have you covered here as well. As a market manager simply go to your event day view and click the three vertical dot icon to the far right of the vendor you want to check-in.

This will open a window that will allow you to select whether that vendor will or will not be attending for the day.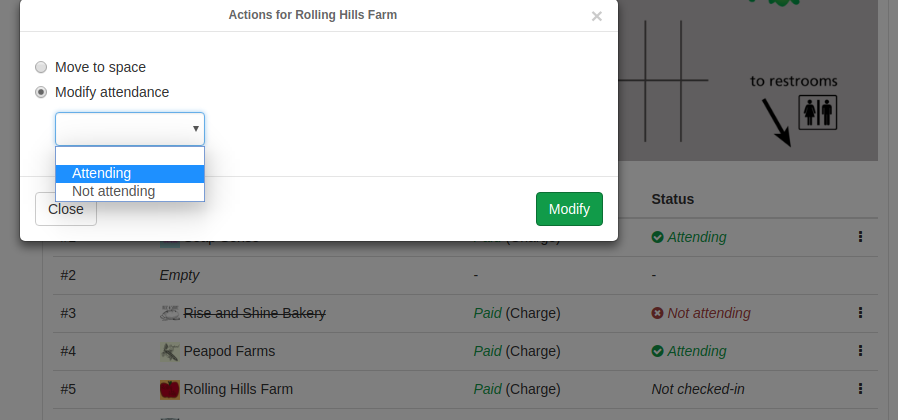 Farmspread vendor check-in is an easy way to get better control over vendor attendance, allowing you to backfill where necessary and ultimately leading to a healither and more successful market.