Have a special theme for one of your market days? Maybe a strawberry day or other festive event? Make sure you let people know with Farmspread's support for event day names and descriptions!
Just go to one of your active seasons and click the overview button to the right.

then, select which day you want to advertise with a special name and description.

On the Day Information page, look for the name and description fields. Click the pencil icon next to either one.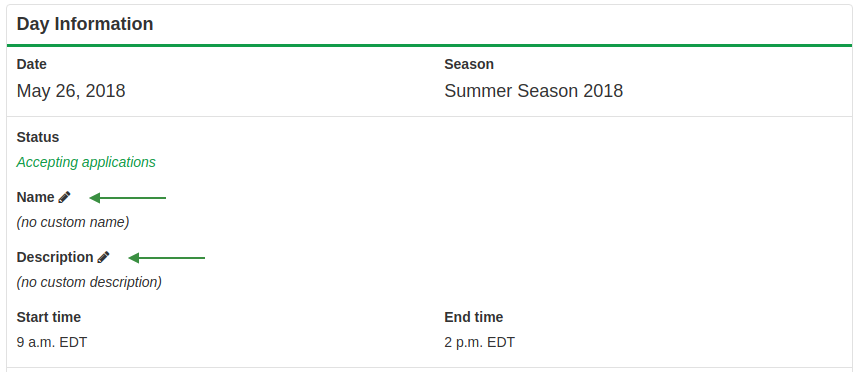 This will open the modal edit window you see below. Enter the name and description for your special day.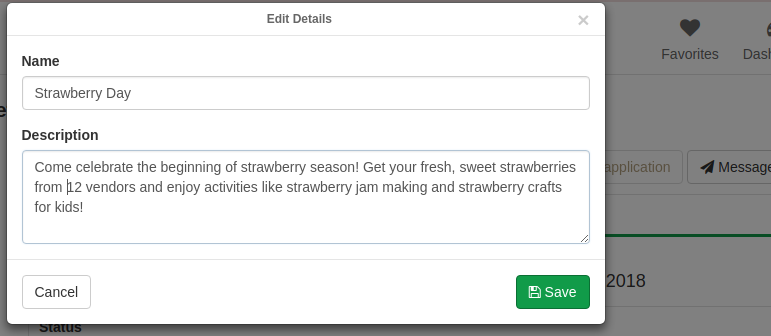 Then click the Save button. You will now see that the Name and Description fields in the day overview will be updated with the information you just entered.

Now, to see it in action, go to farmspread.com and search for your market as an end user would. Then click on your market to see your upcoming event. In this example, notice that May 26th is now highlighted with a Strawberry Day banner!

Clicking on that day will bring you to the event day page, scroll down to see the details that now include the day name and description.

It's easy to add as many special days as you want, in this case we also added a June Jam Day as seen below.

The team at Farmspread is proud to continuely provide new and exciting ways to help your markets be more successful! If you have any questions of comments please email us at [email protected].